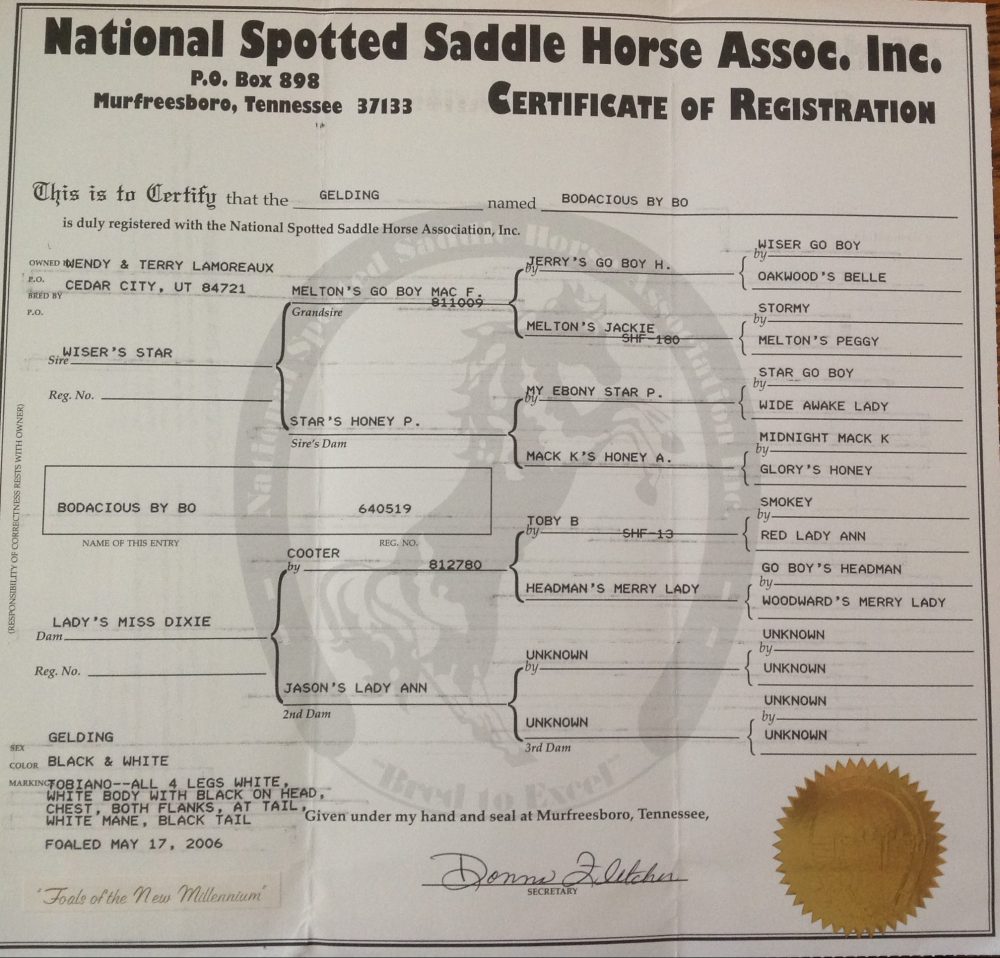 Consigner's Description
Bo is well gaited, but unlike many gaited horses, he can go along just fine and walk with non-gaited horses. He is great on trails, but also knows mountain terrain as we keep him on our mountain ranch in the summertime. He is used to seeing deer, elk, grouse, etc. there. He does not need a trail – is excellent at bushwhacking if necessary. He handles steep hills whether up or down. He is solid footed in downfall, rocks, deep sand, slickrock and will go right through streams or ponds.
In the winter we either ride in the west desert or haul an hour south to warmer weather. He has never been sick or lame for any reason, but as the areas we ride in are hard on hooves he is always kept shod. He is very good with shoeing and handling of his feet. He loads and unloads from a trailer safely and calmly. When unloading he is told to 'Wait' until told 'Down'. This keeps him from getting in a hurry. We also do this going through gates so that all is kept calm. It is fun to watch him as he expects to be told to 'walk, wait, walk, wait'. When caught in our ranch pasture of 40 acres, we do use a grain bag, but our horses do not get any until the halter is on. I have led him from riding an ATV or from out of the window while driving our truck. He handles both just fine.
Bo is a big, 16 hh, 1300 lb, solid built horse that can easily carry a larger rider. We would not consider selling Bo except we are not as young as we once were and with shoulder issues, etc. saddling and on and off is not what it once was. At this point he is not a beginner's horse, but that may come down the line. He has been ridden double.
(Bo will be presented by our friend, Shane Flanigan.)
Consigned By:
Wendy & Terry Lamoreaux
Cedar City, UT
435-867-9505